Custom
Drenon Jewelry is committed to custom, it's what we're known for! From the very beginning concept to the end execution, Drenon is there every step of the way to ensure your custom design is exactly what you are dreaming of. The experience of designing a custom piece is very meaningful and we aim to provide the satisfaction of perfecting a piece to the exact wants and needs of every customer. There are around 7.3 billion people in the world, there's only going to be one of your special piece from Drenon Jewelers.
CUSTOM PROCESS
A Drenon crafted piece starts with a doodle and is built into a Drenon design. The process of our custom designs start with inspiration. The customer brings ideas, sketches, an existing piece or another form of inspiration to start the design for the custom piece. Then the design process starts, our expert jeweler creates a 3D CAD rendering. Our state of the art technology will bring your inspiration to life. Wax Molding follows the CAD design, giving us the pieces features, details and overall size. The final step is to cast and complete. After the piece is cast in metal of choice, all the stones are set and the piece is polished to perfection, leaving you with your dream Drenon!
When you Dream with Drenon the possibilities are endless and the designs are one-of-a-kind. We want to share some of our customer's dreams that came to life!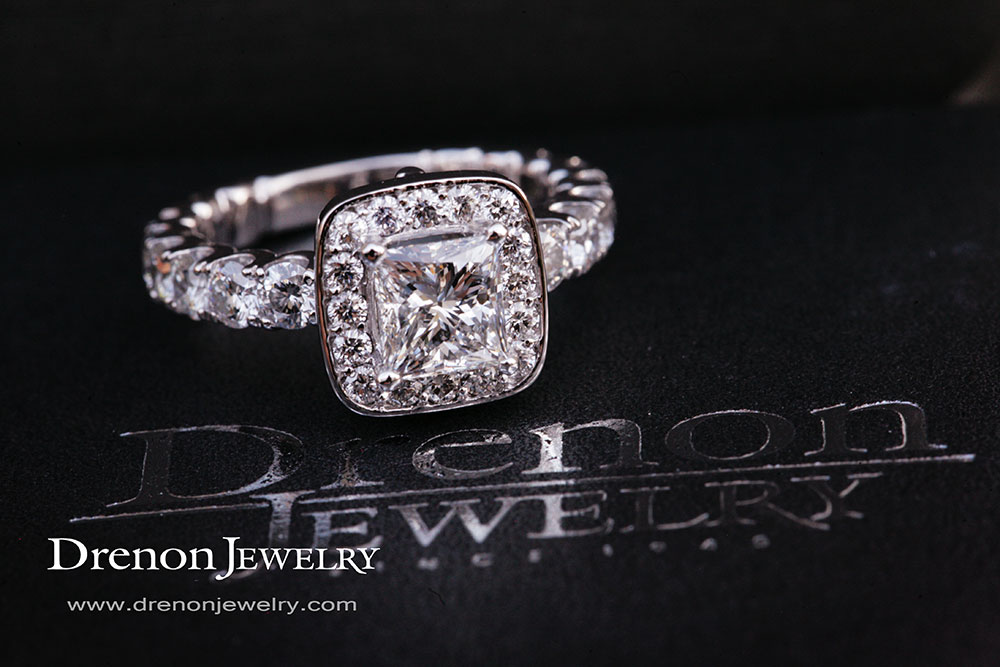 A custom princess cut diamond surrounded by a diamond halo and band. "All-over" diamonds, that spread the "all-over" love.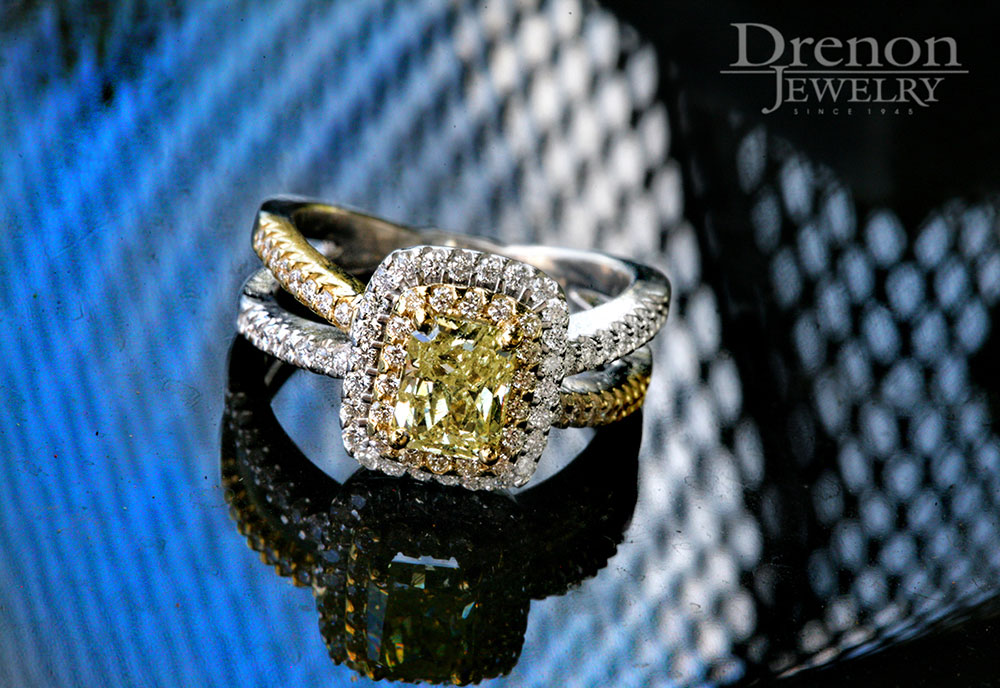 A custom yellow emerald cut diamond surrounded by a diamond halo and split shank band. Cross yellow with white diamonds to meet in the center for a golden sparked center.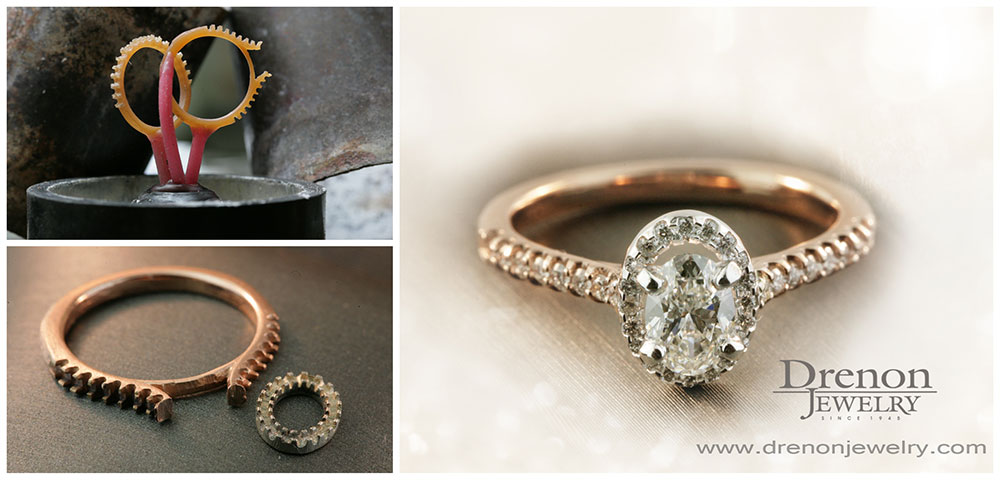 A custom oval diamond with diamond halo, accompanied by a rose gold diamond band. Diamonds inlaid throughout this design to spark the eye and imagination.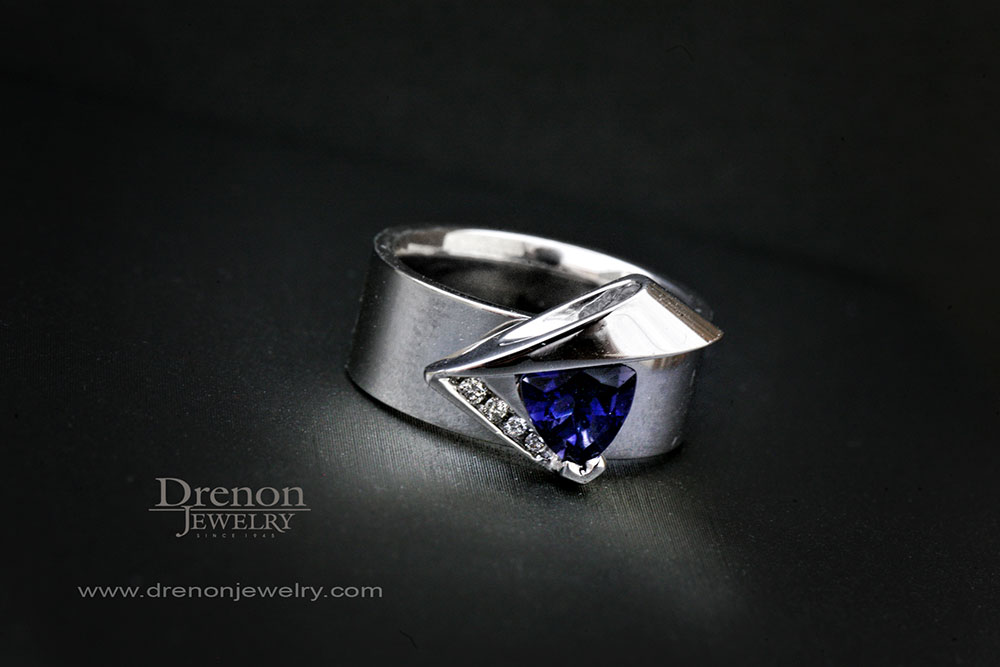 This is the true meaning of "one-of-a-kind", made at Drenon Jewelry by expert jewelers. This custom sapphire triangle diamond carried by a silver and diamond figure is an original engagement ring. Modern, sleek and truly unique!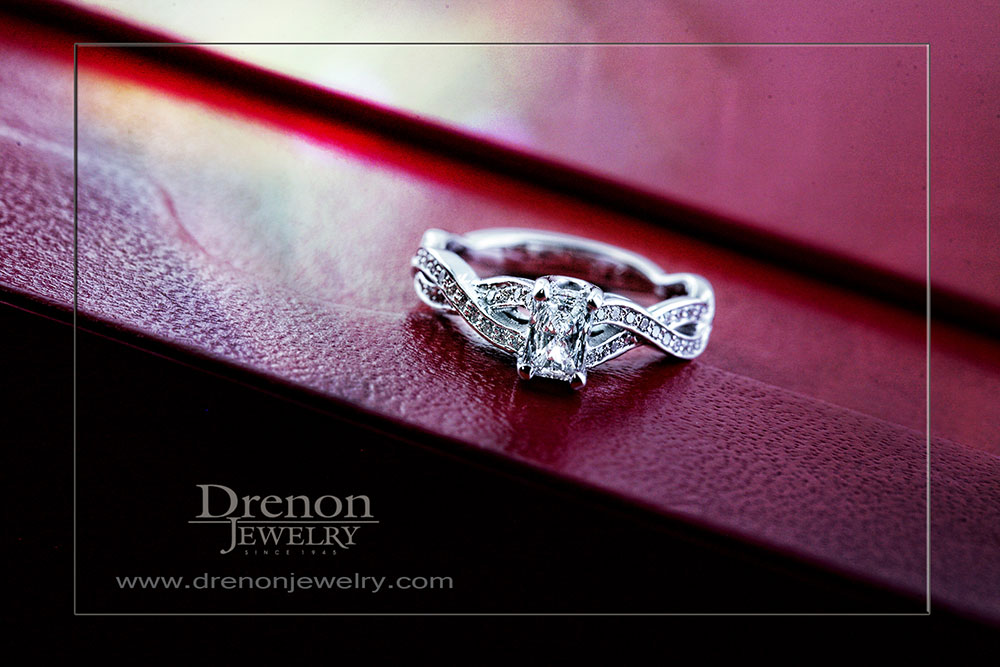 This custom Drenon design features a diamond braided band and a center emerald diamond cut with four prongs.